Retrospected: Self-hosted retrospectives. Own your data.
Retrospected Self-Hosted Edition allows you to host your retrospective data on your servers for ultimate privacy and control. Our on-premise solution provides complete control, privacy, security, and customization while leveraging the power of Retrospected.
Own hosting, own servers, own privacy
Retrospected Self-Hosting Edition allows you to host your retrospective data on your servers for ultimate privacy and control. With our self-hosted solution, you can enjoy complete control, privacy, security and customisation while leveraging the power of Retrospected.
Why Self-Hosting?
Take charge of your retrospectives data with Retrospected Self-Hosting Edition. By hosting on your own infrastructure, you ensure complete control, security, and privacy. With Retrospected's self-hosting option, you establish a robust and private environment tailored to your unique requirements.
Key Features
Retrospected Self-Hosting Edition offers a comprehensive set of features, empowering you to maintain data privacy and security while running your retrospectives.
Here are some key features:
Data Control: Retain full control over your retrospective data, ensuring it remains within your organization's boundaries.
Enhanced Security: Leverage your existing security measures and infrastructure, reinforcing the security of your retrospective data. Use your own SSO mechanism via Google OAuth, Github, Okta...
Customisation Options: Customise your instance with the logo and colors of your organization. Primary and secondary colours, in addition to the header colours and logo, can be customized.
Lifetime updates: You will be receiving updates at the same time as the online version.
Dedicated Admin Panel: Manage your users via a dedicated Admin Panel
Customisation
You can customise the look-and-feel of your self-instance easily. You can change the logo, the primary and secondary colors, and the header colors.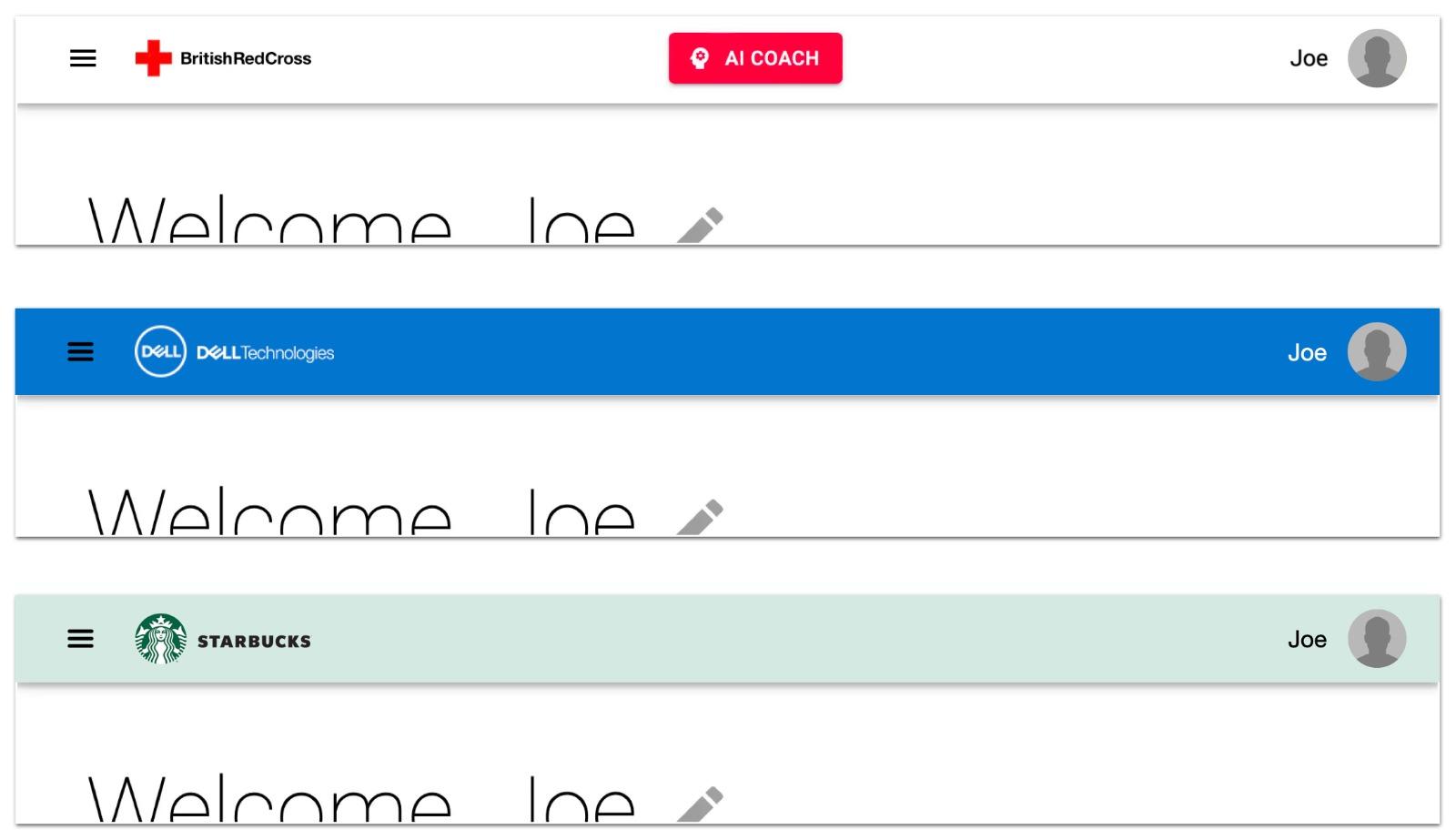 This is available directly from our Docker configuration tool, or can be done manually using the documentation.
Benefits for Enterprises
Choose Retrospected Self-Hosting Edition and unlock a range of benefits for your enterprise:
Ultimate Data Privacy: Safeguard sensitive information by hosting your retrospective data on your own premises, maintaining complete privacy.
Unmatched Control: Enjoy unparalleled control over your data, allowing you to implement custom security measures and access policies.
Enhanced Security: Leverage your organization's robust security infrastructure to protect your retrospective data effectively.
Administration Panel
Self-Hosted instances provide an administration panel so that users can be managed: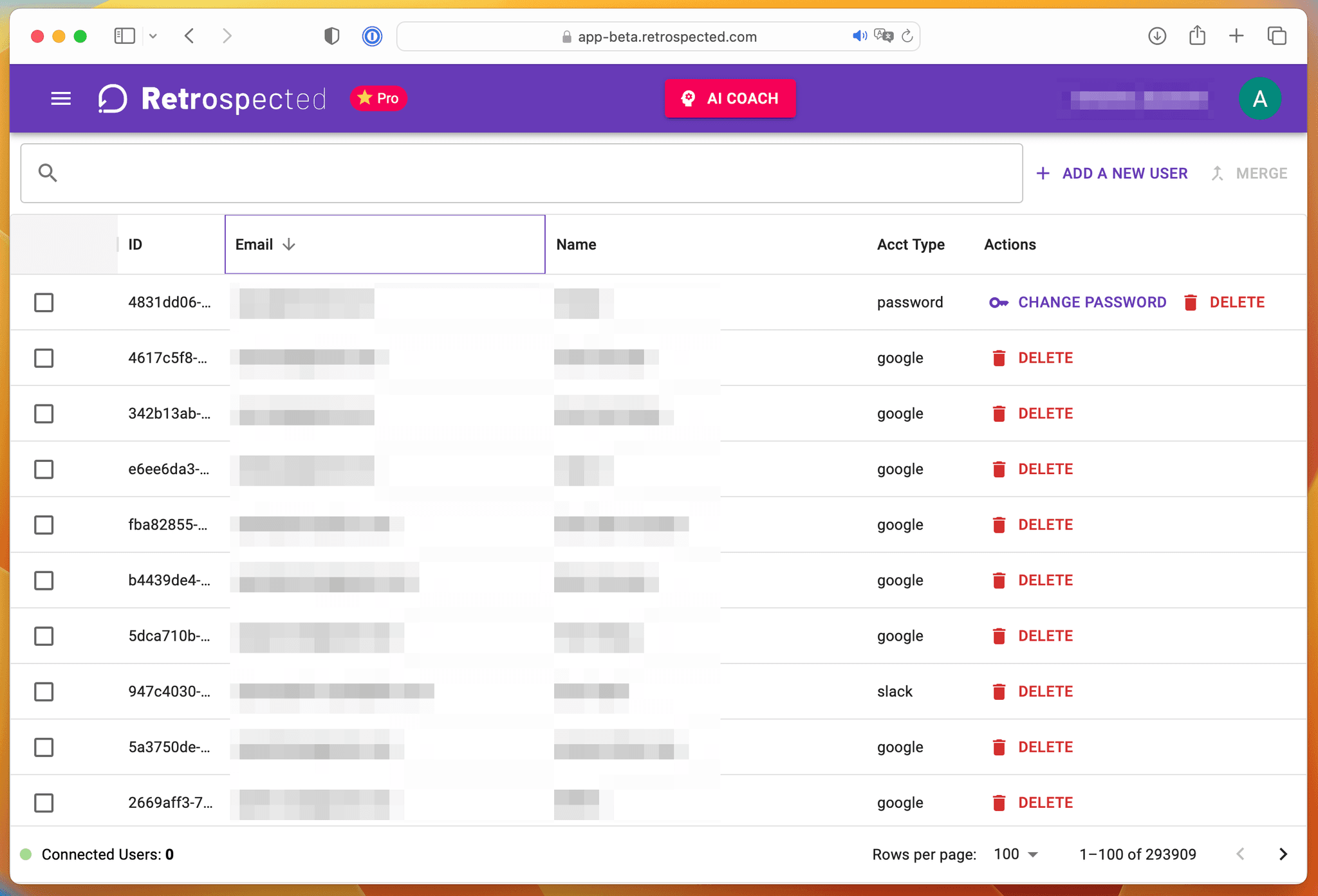 You can, using this panel:
Create new users
Change passwords (for password accounts)
Merge users (for instance, if a user create an anonymous account, then a regular account, and wanted to merge them)
Delete users
Display the number of users currently connected to a retrospective
Seamless Installation and Setup
Deploying Retrospected Self-Hosting Edition cannot be more simple:
Easy Installation: Our interactive documentation will help you configure Retrospect on your own servers in 5 minutes, using Docker Compose.
Technical Support for your installation: We offer an optional 30-minute call with our expert support team to assist you during the installation.
Documentation: Our documentation is also here to help you along the way.
Pricing and Licensing
One-time cost of $599, free updates forever.
You can try Retrospected Self-Hosting Edition today, for free, no payment required. Simply follow the setup steps on our documentation.
After the evaluation period, simply subscribe to get your licence key.